Overview
Over the last month, I have been on the 4-Hour Body diet.  I read the book over the holidays and wanted to prepare for a trip to Mexico, this winter.  I have never really gone on a formal diet before and have long believed that it is the amount of food you eat, not what food.  Americans tend to WAY over eat, consuming typically two portions or more per meal.
My Results
Mileage may vary, but I am very happy with the results.  Overall, I am down around 14 pounds since starting the diet and have increased muscle mass.  More importantly, I feel better.  Not bad for 4 & 1/2 weeks.  It's hard to explain until you've been through it, but I don't feel as sluggish.  I did all of this without stepping on a treadmill or eating a salad.  I put together a handy graph to show my weight loss: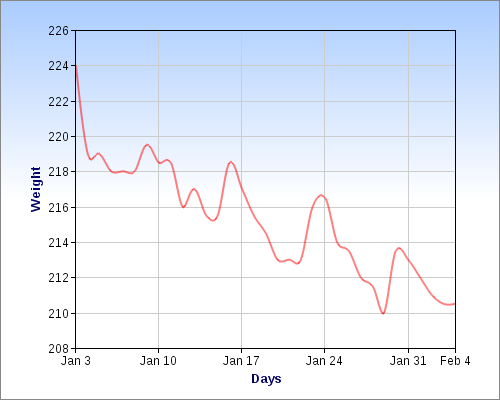 What have I learned?
I now know how to cook dry beans and how to make them a delicious side dish.  I can make a very good guacamole from scratch, without using flavor packets or a specific recipe.  I'm beginning to feel more conscious about the types of food that I put in my body on a daily basis and hopefully less likely to snack because I'm bored.  My hardest day was the first day of the diet.  I felt like I could eat everything and still not feel satisfied.  That feeling diminishes over time or you just get used to it – not really sure.  Now that I've done this diet for a couple weeks, I can say that it is a breeze once you get through the first day or so of each week.
Conclusion
This diet worked well for me.  I think part of the reason it worked so well was that I knew it was only a temporary situation.  It's not a fun diet, but I doubt you will find any fun diets out there that produce positive results.  I have gotten used being on the diet and will likely incorporate a modified version of it into my daily life.  I would definitely recommend the 4-hour body to anyone who asks.  I hope to soon post some recipes that I used throughout the past month.  I will leave you with then and now pictures (Then on the left, Now on the right).